The theme of creation and destruction has been alive in our lives and our imaginations for as long as we can perhaps remember. On the surface, creation, like life itself, has primarily positive connotations, while destruction, or death, may have primarily negative ones.
In fact, the trinity of the Hindu pantheon takes it a lot further. On the one hand, we have Brahma the creator – he, looking in all four directions, creating the three universes, with the five elements at his disposal. He is said to create all that exists. On the other hand, we have Shiva, the destroyer. He, of the long-matted hair through which the Ganga is said to have come down upon earth. He, the one with the blue throat, who voluntarily drank all the poison during the initial stages of Samudra manthan (the churning of the oceans). He, who is said to have spent eons on Mount Kailash in meditation, whose power became so exalted and refined, that the rest of the Gods worried enough to send apsaras to try and disturb his state of samadhi. Shiva, the destroyer.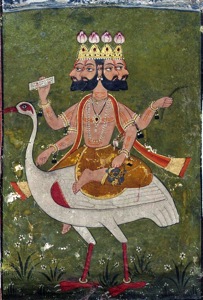 Lord Brahma (image via
Wikimedia
)
But how can it be, or why is it, that the purported creator, Brahma himself, is rarely seen or heard from in Hindu culture any more? And if Shiva is indeed the destroyer, why are his images found in temples in every nook and corner of India – in villages, in towns, big and small, and in cities? Are we saying that we are much more comfortable with the idea, nay, that we have whole-heartedly embraced the idea of Shiva the destroyer, and his purported destruction, as opposed to the idea of Brahma and creation?
Or is there a higher dynamics at play? Has Brahma been banished from our cultural consciousness because he rested on his laurels after creation, and forgot that preservation, sustenance, growth are also important? Is that why the two incarnations of Vishnu, the preserver (the third part of the pantheon), Krishna (via the Mahabharata, and specifically the Gita) and Rama (the Ramayana), became so embedded in the religious and cultural fabric of Hinduism? Or is it that Shiva the destroyer is being true to his assigned role, by unencumbering us from the burden of all that which needs to be destroyed anyway, in the passage of time? We will explore these questions in future articles…
I hope I have given you a few things to think about, on the meme of creation and destruction, while introducing the third dimension of the preserver. As we move into the festival months of August, September and October, I invite you to observe and share your ideas about the respective importance of these three entities of the pantheon. Which one speaks to you more than the other at a given occasion?
Hari OM. Sarve bhavaNtu sukhinAH!
We chant OM, to invoke the One. We pray to the One, for universal peace for All.
Kumud