Holi or Holika, is a spring festival (March 1st/2nd 2018) celebrated at the onset of the spring season, on the full moon day (Purnima) in the month of Phalguna. It is also the first day of the Hindu calendar (samvat) and a day of great joy and gaiety in the cities of Vrindavan and Mathura. Holi is celebrated by throwing colors and colored powder in the air. Colorful Rangoli patterns are painted at doorways to houses.
Spiritual Significance of Holi
The Holi festival marks the end of winter and the beginning of spring. Essentially, Holi means the triumph of good over evil and conquest of sensual values by spiritual values. The Holi fire connotes this event in Hindu mythology of the conquest of lust by Shiva. For this reason, Shiva is also known by the names
Kameswara, Maara Ripu or Madana Ripu
indicating one who has conquered carnal desires.
On Holi day, Hindus remember the life of a pure devotee, Prahlad and keep his spiritual ideas alive. In other parts, it is celebrated as the day of Kaama dahan (burning of desires).
More details on Spiritual Significance of Holi
Legend of Holika – Holika Dahan
The story relates to an ancient demoniac king in India known as Hiranya-Kasyapu. He was a cruel and tyrannical ruler. All his subjects followed his orders except for his son Prahlad. Prahlad was an ardent devotee of Vishnu. This infuriated his father who wanted to punish him. The king asked Prahlad to embrace a red hot pole. But, he was unhurt. Then, he asked Prahlad to jump off a steep cliff, but was unhurt again. Prahlad obeyed his father each time chanting Vishnu's name. Hiranya Kasyapu ordered that Prahlad be trampled by an elephant. But, he was unhurt.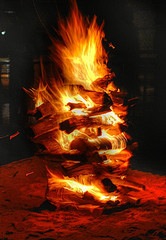 Flickr photo by bikashdas
As Prahlad was not hurt by all the punishment, Hiranya Kasyapu called his sister Holika who had a boon from the gods that she would not burn in a fire. Holika made Prahlad sit on her lap in the fire. But, this time, Holika was burnt to death (for abusing her boon to do evil) and Prahlad was unhurt. Eventually, the ordeals faced by Prahlad climaxed in the emanation of Narahari or Narasimha who destroyed Hiranya Kasyapu. Again, this displayed the triumph of a true Bhakta (devotee) over the evil represented by Hiranya Kasyapu. Prahlada never lost faith in the Lord despite all his ordeals.This legend is celebrated on the full-moon or poornima night of Holi by lighting huge bonfires called Holika Dahan or the sacrifice of Holika.
Modern Day Holi
The modern festival of Holi is celebrated on the day of the Phalgun full moon by tremendous gaiety and revelry by people of all walks of life. It is a day of particular freedom for kids who look forward to this day with great anticipation.
Water balloons filled with color water are hurled at passer-bys, pichkaris and water guns filled with water are squirted in all directions and impromptu street gangs roam the neighborhoods looking to include everyone in the revelry.
In a more recent trend, many adults and children alike prefer to observe a dry holi by greeting fellow adults with gulaal (a colored powder of various hues) – the colours are traditionally made of Neem, Kumkum, Haldi, Bilva, and other medicinal herbs prescribed by Ayurvedic doctors.