As I often do, I opened one of my favorite Vivekananda books to a random page, to seek some inspiration. The book is titled "Selections from the Complete works of Vivekananda". I remember that I had paid Rs 75 for this treasure at a bookstore in Delhi on one of my trips there a few years ago – perhaps the best bargain ever!
My random opening of the book opened to a page within the chapter entitled – "Reply to the Calcutta Address" and the paragraph for which Vivekananda is perhaps most famous for –
"Awake, arise and stop not till the desired end is reached. Young men of Calcutta, arise, awake, for the time is propitious. Be bold and fear not. It is only in our scriptures that this adjective is given unto the Lord – Abhih, Abhih. We have to become Abhih, fearless, and our task will be done. Arise, awake, for your country needs this tremendous sacrifice. It is the young men that will do it. The young, the energetic, the strong, the well-built, the intellectual – for them is the task."
Even though these words were said perhaps a hundred years ago, how true are these words in the context of what is going on in the world of today! Vivekananda realized (correctly) that the energy and faith of those young at heart is what moves mountains – physical and spiritual. He said – "the whole world has been made by the energy of man, by the power of enthusiasm, by the power of faith!"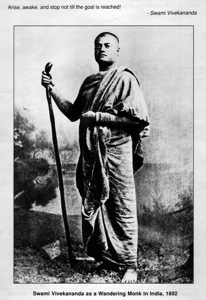 Swami Vivekananda as a Monk
So, if we pay close attention to the above, energy and enthusiasm are not enough – faith is one of the key ingredients! And what is faith? Vivekananda goes on to explain that faith is closely tied to shraddha – a term which is hard to define – but can perhaps be described as a combination of "devotion and perseverance". An example of shraddha at work is given in the Katha Upanisad via the story of Nachiketa – the young boy who would not relent until the Lord of Death told him about the secret of life and death itself!
Vivekananda argues that "what makes one man great and another weak and low" is the level of his or her shraddha. It is this shraddha that must enter into us, if we are to succeed.
"Give up this awful disease that is creeping into our consciousness, the idea of ridiculing everything (including our scriptures!), the loss of seriousness. We need to give that up! We need to be strong and have this shraddha, a strong belief in ourselves, a strong belief in the indestructible atman, and everything else is bound to follow."
Vivekananda concludes by asking us to banish fear from our minds and hearts – for fear and faith (or shraddha) cannot co-exist in a person! He says – "fear not, for all great power, throughout the history of humanity, has been with the people. The moment fear enters your heart, you are nobody. It is fear that is the cause of great misery, and it is fear that is the greatest of all superstitions. And it is fearlessness that brings heaven, even in a moment."
So Arise, Awake, and stop not till the goal is reached!
उत्तिष्ठत जाग्रत प्राप्य वरान्निबोधत ।
I felt inspired enough that I thought I would share this with you, dear readers. Hope you enjoyed it and share with us (in the comments below) some of your inspirations – from Vivekananda, or your favorite author(s) and book(s). Namaste!