Pandit Jasraj is one of my favorite classical singers. he has the ability to make you close your eyes and transport you to the land of peace and meditation. I share with you one of my favorite compositions – a simple, slow, moving, yearning call to the Goddess Durga. He has taken these few simple lines and transformed them into an incredibly powerful call or invocation to the Goddess.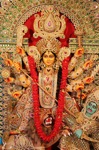 Goddess Durga
merI ek a.Ntar abhilaasha, pUro mayyaa, begI aavo, darasa dikhaa,
mayyaa merI, kyo.N nahI.N aavata, bichha.Daa baalaka ro ro pukaarata,
mujhe auro.N se nahI.N aasa..
मेरी एक अँतर अभिलाश, पूरो मय्या, बेगी आवो, दरस दिखा,
मय्या मेरी, क्योँ नहीँ आवत, बिछड़ा बालक रो रो पुकारत,
मुझे औरोँ से नहीँ आस..
"I have only one desire – please come and show me your face – dear mother, why don't you come – this soul is lost without seeing you – I have no desire of any other vision!"
I hope you enjoy the full version (see amazon.com link below) – it is eleven minutes of sheer bliss…
Meri Ek Antar Abhilasha