Krishna Janmashtami is the birthday of Lord Krishna, the eighth Divine Incarnation of Lord Vishnu. It falls on the 8th day of the dark half of the month (in the waning part of the lunar cycle between the full moon and the new moon) of Bhadrapada (August-September). It is a festival celebrated with great devotion and enthusiasm by Krishna devotees all across the world. It falls on 16th/17th August 2014 (US/India). This article discusses the spiritual significance of Krishna Janmashtami.
Lord Krishna – The Complete Incarnation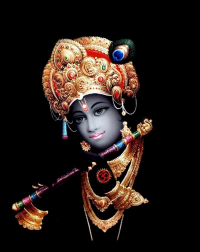 But why did Lord Krishna incarnate into the physical realm anyway?
Incarnations of God appear for special reasons under special circumstances. Whenever there is much unrighteousness, whenever confusion and disorder set in on account of unrighteousness and baffle the well-ordered progress of mankind, whenever the balance of human society is upset by selfish, ruthless and cruel beings, whenever irreligion and unrighteousness prevail, whenever the foundations of social organisations are undermined, the great Incarnation of God appears in order to re-establish righteousness and to restore peace.
यदा यदा हि धर्मस्या, ग्लानिर्भवति भारत । अभ्युत्थानम् अधर्मस्या, तदात्मानं सृजाम्यहम् ।।
yadaa yadaa hi dharmasya, glaanirbhavati bhaarata.
abhyutthaanam.h adharmasya, tadaatmaanM sRRijaamyaham.h..
Hey Bhaarata (Arjuna). It is Faith which teaches renunciation and is responsible for the elevation and well-being of human beings. Whenever in the passage of time, (yadaa yadaa) Faith (or dharma) is weakened or is under attack, (glaanirbhavati) – and whenever adharma spreads without control (abhyutthaanam.h) – it is then (tadaatmaanM) that I re-incarnate myself (sRRijaamyaham.h) with all my powers to restore Faith. Whenever there is a decline of righteousness, and the rise of unrighteousness, then I re-incarnate myself to teach dharma.
An incarnation is the descent of God for the ascent of man. The work done by the Incarnation of God and His teachings produce a benign influence on human beings and help them in their upward divine unfoldment and Self-realisation.
Lord Krishna – Physical Manifestation
His enchanting form with flute in hand is worshipped in myriads of homes in India. It is a form to which is poured out devotion and supreme love from the hearts of countless devotees not only in India but also in the West. Millions of spiritual seekers worship Him and repeat His Mantra, Om Namo Bhagavate Vasudevaya.
(from the album 'Garland of Moksha Mantras' by Yogi Hari)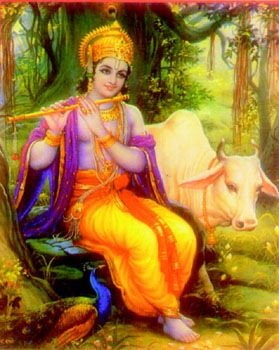 Lord Krishna – His Roles in Life
Lord Krishna was great in knowledge, great in emotion, great in action, all at once. The scriptures have not recorded any life more full, more intense, more sublime and grander than the life of Sri Krishna.
Krishna played various roles during His stay in the world. He was Arjuna's charioteer. He was an excellent statesman. He was a master musician; he gave lessons even to Narada in the art of playing the veena. The music of His flute thrilled the hearts of the Gopis and everyone else. He was a cowherd in Brindavan and Gokul. He exhibited miraculous powers even as a child. He killed many demons.
He revealed His Comic Form to His mother, Yasoda. He performed the Rasa Lila, the secret of which can only be understood by devotees like Narada, Gauranga, Radha and the Gopis. He taught the supreme Truth of Yoga, Bhakti and Vedanta to Arjuna and Uddhava. He had mastered every one of the sixty-four fine arts. For all these reasons He is regarded as a full and complete manifestation of God.
We hope you enjoyed this article from our archive. Here are some more articles on Lord Krishna