The second day of the Diwali festival, is the fourteenth day of the dark fortnight of the month of Ashvin, and is called Narak-Chaturdashi or Kali Chaudas and also known as Chhoti (-small) Diwali. This day is dedicated to the victory of Lord Krishna over the wicked demon king Narakasur.
In 2023, Naraka Chaturdashi will be celebrated on November 11th (India).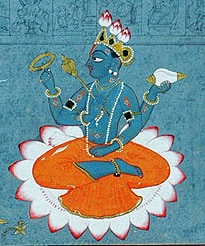 Lord Vishnu and Sudarshana Chakra (from Wikimedia)
Narkasur had fought against neighbouring kings and imprisoned 16,000 women, daughters of the Gods and saints. He had also defeated Lord Indra and taken away the magnificient kundale (earrings) from the ears of Aditi, mother of the Gods. When Lord Krishna learnt about Narakasur's deeds, he decided to engage him in battle and liberate all the celestials.
On hearing of this proposed battle Satyabhama, Lord Krishna's wife, took this task upon herself and with his help killed Narkasur with Krishna's sudarshana chakra (originally given to him by Lord Vishnu). As a symbol of the victory Lord Krishna smeared his own forehead with the demon's blood. On his return, the womenfolk massaged his body with scented oils and gave him a good bath to wash away the filth.
Naraka Chaturdashi Celebrations
The custom of taking a bath before sunrise on this day has become a traditional practice. People get up early and have an oil-bath (तेल अभ्यन्गम). The tradition of taking oil baths has its origins in ayurvedic medicine. Preparations for this ritual bath begin the night before as water pots are cleaned, venerated, decorated with marigolds and mango leaves and filled with water in readiness for dawn. They are heated next morning and the hot water is used for ritual baths.
The body of one who uses oil massage regularly does not become affected much even if subjected to accidental injuries, or strenuous work. By using oil massage daily, a person is endowed with pleasant touch, trimmed body parts and becomes strong, charming and least affected by old age. Charaka Samhita Vol. 1, V: 88-89
After their hot water bath, an aromatic paste of herbs in scented oils is applied. Everyone then dresses up in new clothes and the celebrations begin with the bursting of fireworks and distribution of sweets that have been first offered to God. The courtyards are decorated with rangoli (drawing of traditional motifs with colorful powders) and the attention shifts to the feasting on different sweet and savoury snacks prepared for the festival. Typical sweets like laddus, chaklis, sakkaparas, badam halwa and various savouries are made for this evening.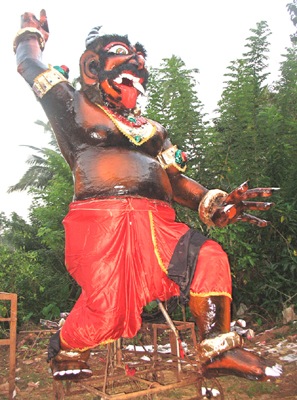 Effigy of Narkasur from Goa
More Images
Naraka Chaturdashi in Goa
The southwestern Indian state of Goa has a unique way of celebrating Naraka Chaturdashi. Effigies of the demon Narkasura are created over many months and then paraded through the streets through the day and into the evening. The parade(s) conclude with the burning of these effigies (which are often filled with fire crackers and other combustible materials!) and bursting of crackers and other associated revelry.
Chotti (Small) Diwali Celebrations
The day before Diwali is celebrated as Chotti Diwali in several parts of India. Growing up in northern India, I remember this day being spent preparing for the following day of Lakshmi puja. We would spend a lot of time cleaning the house and making it spic and span for Goddess Lakshmi. It would also be a day of tremendous excitement as all the kids would go shopping for their favorite fire crackers and noise-making bombs and bottle rockets. A lot of time would also be spent putting up decorations inside the house and making rangoli patterns outside the house to welcome Lakshmi on the main Diwali day – the third day of Diwali or the new moon day of Amavasya.
Rangoli decoration for Diwali
Happy Diwali to all of you – may the festival of lights bring love and light into your life!
So how do you celebrate Diwali? Please share with us in the comments section below.