Currently viewing the tag: "puja"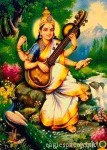 Vasant Panchami (also known as Basant Panchami) is a festival in honor of Goddess Saraswati, the hindu Goddess of education, learning and the fine arts (music, writing, painting, etc.). The festival is celebrated on the fifth (panch) day after the new moon (amavasaya) in the month of Magha according to the Hindu calendar (usually occurs in late January or early February). It marks the onset of spring (vasant) according to the Hindu calendar and is marked with great gaiety and celebrations all across the northern states in India.
Read full article….
Continue Reading

→
The festival of Ganesha Chaturthi is celebrated as the "birthday" of Lord Ganesha in many parts of India. Ganesha Chaturthi is perhaps the most actively celebrated festival in the state of Maharashtra. The festival last for ten days – beginning on the fourth day after the new moon in the month of Ashwin. Traditional celebrations include the decoration of statues of Ganesha in every household.
Continue Reading

→
Lord Shiva, the greatest yogi and Lord of meditation, is revered in all sects of hinduism, in all regions of India. It is traditional that every deity has a particular day of the week devoted to them and devotees observe a day of fasting and perform puja to the Lord on this day. For Lord Shiva, this day is Monday.
Continue Reading

→