Vasant Panchami (February 5th, 2022), also known as Basant Panchami is a festival in honor of Goddess Saraswati, the hindu Goddess of education, learning and the fine arts (music, writing, painting, etc.). The festival is celebrated on the fifth (panch) day after the new moon (amavasaya) in the month of Magha according to the Hindu calendar (usually occurs in late January or early February). It marks the onset of spring (vasant) according to the Hindu calendar and is marked with great gaiety and celebrations all across the northern states in India.
Spiritual Significance of Vasant Panchami
Goddess Saraswati, the one who flows (saras) easily (wati), was created by Lord Brahma and is also known as Vach-Devi – the Goddess of Speech. Vasant Panchami marks the birth of the Goddess and is an opportunity for a new spiritual birth for the seeker.
The beej or seed mantra for invocation of Saraswati Devi is
AUM shreem bhreem saraswataye namah
ॐ श्रीम भ्रीम सरस्वतये नमः
This mantra is often used during the ceremonies conducted to start the formal education of a new child on the occasion of Vasant Panchami. The traditional first lesson or first words are taught to children by their parents on this day.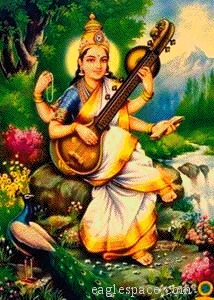 Goddess Saraswati with Veena
Traditions of Vasant Panchami
The color yellow is perhaps the most prominent feature on Vasant Panchami. Yellow colored clothes, foods (like saffron rice), flowers (mustard) and sweets (with kesar) are the traditional norm on this day. Goddess Saraswati is adorned in yellow clothes (at home or at the mandir) as yellow is considered to represent the sattva guna – characteristic of purity, prosperity and love.
Kite flying is a very popular tradition observed (particularly in Haryana and Punjab) on Vasant Panchami. Children and adults alike engage in flying small and large kites and various kite-flying competitions are held across roof-tops and in playgrounds all over northern India. It is also a day for art and painting competitions, poetry recitations and music festivals all over India in honor of Goddess Saraswati – the patron of the arts.
So how do you celebrate Vasant Panchami? Do you have any special family traditions that you would like to share with us? Please share with us…