Every once in a while, when the external stimulus from the virtual world (email, social networking, websites and more) becomes excessive, and I start feeling a little overwhelmed by it all, I make a conscious decision to "unplug" myself from it all for a little while.
One such occurrence happened a few days back, after a particularly long day at work, followed by my participation in some twitter 'chats' on 'leadership' and 'social media' that went late into the night.
I woke up the next day, and decided that I needed a break. So, I posted this message on twitter.
The warning light is flashing. System overload. Draining and refilling. With Silence.
Entering the 'cone of silence'
I followed this by logging out of all social media, email and website, on my phone and on my laptop. In essence, I was in 'digital silence'. The result? After a few hours, an incredible calm swept over me. I did ten minutes of deep breathing and pranayama at lunch time. I read a few pages of the book, "Silence as Yoga", by Swami Parmananda. Here is a quote from that book that jumped out at me:
It is the quiet lives, up to which we look, and out of which we gather the deepest calm and courage. Their lives are like the stars, which simply pour down on us, the calm light of their bright and faithful being.
But my mind argued – what good is silence? How can you do anything good if you are just silent? The answer continued via the quote –
It is good to know that we, the silent ones, can be useful to the active ones; to know (and this we may know surely) that no man or woman of the humblest sort can really be strong, gentle, pure and good, without the world being better for it, without somebody being helped and comforted by the very existence of that goodness.
However, what happened next was even more incredible. I decided to go for a walk, on what was a gloriously sunny day – and a conversation started happening inside me. I have to say that fragments of this conversation had been happening in my mind for a while – but it was perhaps the clarity of 'silence', of 'draining and refilling', that brought it all together.
So, gentle readers, with great humility, I present this "conversation with the divine" to you.
Seeking Divinity – A conversation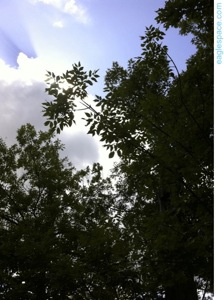 A beautiful day for a conversation
Asleep or awake, in every season.
I dream of You, what is the reason?
Do I need wonder, if You will come?
In Your great kingdom, Thy will be done?
In every breath, lies life uncertain.
Why should I fear, when You draw the curtain?
Lest we forget, You gave us life.
You shed many tears, seeing all our strife.
Why do we fight, over yours and mine?
Did we forget, it belongs to You, divine?
Atheist or believer, some people may say.
But I see Your face, every minute of the day.
My prayer is constant, may You give us light.
May it shine within, whether day or night.
What is my purpose? What is the reason?
Let me dream of You. In every season.
My hope in sharing this conversation with you is that it will encourage you to have such conversations on this blessed day of Guru Poornima – as you celebrate and honor the Gurus and divinities in your life.
Do you have any questions about 'silence' or the role of a 'Guru'. Would you like to see more articles on the 'power of silence'? Please tell us in the comments.